How Your Stay at the Hospital Will Go (Weekdays)
Everyday Items Needed for Your Stay
We have rental hospital gowns and diaper sets (adult diapers) available.
If you need them, please apply at the Reception Desk for Patient Wear Rental and Diaper Service on the 1st floor of the Outpatient Building.
You can use the washing machine (paid) in the hospital to wash your clothes.
Please refrain from bringing in electrical appliances due to limitations in power capacity.
If you plan on using a TV or radio, please bring earphones or headphones.
Please write your name on your personal belongings, and do not bring in too many things.
Please keep your eye on your cash and valuables.
Hospital Rooms
There are rooms free of charge (no surcharge) and rooms that cost (with surcharge).
For details, please refer to the page "Concerning Hospitalization Costs."
You may be asked to move to a different room following changes in your medical condition.
The chief nurse of the ward will explain this in advance. We ask for your cooperation.
Meals
Meal Times During Your Stay
* Times may vary slightly depending on the ward.
| Breakfast | Lunch | Dinner |
| --- | --- | --- |
| Around 7:30 a.m. | Around 12:00 p.m. | Around 6:00 p.m. |
You will be asked to take the meals we offer at the hospital during your stay.
Meals during your stay are prepared by a registered dietitian in accordance with each patient's medical condition. Bringing in food and drink from outside may interfere with treatment, so please consult your doctor / nurse before doing so.
Meals are broadly divided into two types, general meals and therapeutic meals.
A choice of meals is offered once a week, for Friday dinners.
* General meals are intended for those who are not under any special instructions, such as for allergies or dietary restrictions.
We also have a pamphlet on meals available, so please ask the ward nurse after you come in for your stay.
If you are allergic to certain foods, please inform your doctor / nurse as soon as possible.
You can also receive dietary guidance from a registered dietitian. Please consult your doctor / nurse.
Hospital Manners
Mobile Phones
Phones in Private Rooms
Landlines installed in private rooms of the ward can only receive incoming calls, and cannot be used to make calls to numbers outside the hospital. If you want to call an external number, please use your mobile phone in the areas designated in [On Mobile Phone Use], or use the public pay phone installed inside the hospital.
Please Refrain from Smoking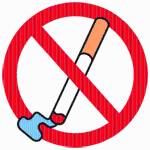 Smoking is prohibited everywhere on the hospital premises. We ask for your cooperation.
"Why not take this opportunity to quit smoking? "

Tobacco Cessation Outpatient Clinic: Open on Friday afternoons
* To make an appointment, please contact the outpatient services of the internal medicine department, or the staff of the department you are hospitalized in.

Since we believe that creating an environment that discourages smoking is in the best interests of our patients, there are no designated smoking areas inside the hospital.
Unacceptable Behavior
At this hospital, we may refuse to treat certain patients if they act in a way that impedes their medical treatment or disturbs other patients.
"Raising your voice, swearing, or harassing others; violent or threatening behavior; causing damage to or defacing the building, etc."
If you do not follow the staff's instructions, such as cautions or requests for restraint, we may contact the police. We ask for your understanding concerning our effort to ensure the safety of our patients and to carry out consultations efficiently, while providing the best medical care overall.
Ensuring Safety
Wristbands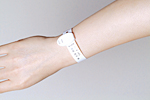 At this hospital, we have introduced wristbands as a way to prevent misidentification during hospital stays.
Preventing Falls
We take great care in ensuring cleanliness in the hospital, but some areas may be slippery. To prevent falls, we recommend wearing slip-resistant athletic shoes, ballet shoes, or rubber-soled shoes.
Preventing Infections
A hand sanitizer is installed at the entryway of the hospital room. Please make use of it to prevent infection.
Bringing in Dangerous Items
For safety reasons, we ask you to refrain from bringing in dangerous items such as lighters, scissors, or fruit knives.
If you have brought anything of the kind, please notify the nurse.
We will keep it for you in the ward.
On Carers, and Going Outside the Hospital, Including Overnight Stays
Carers
There is no need to be accompanied by a carer when you are staying in the ward. However, if you wish to be accompanied by a carer due to your symptoms or other special reasons, permission is required. Please consult the nurse and fill out the designated form.
* Bathrooms formerly available to carers (formerly on the 10th floor of Hospital Building No. 1) is no longer available as of December 31, 2017.
 We apologize for the inconvenience. Thank you for your understanding and cooperation.
Going Outside the Hospital, Including Overnight Stays
A doctor's permission is required to spend a night outside the hospital or to go out of the hospital during your hospital stay.
Please inform the ward nurse, and fill out the designated form before going out.
This hospital is approved as an advanced treatment hospital offering highly specialized and advanced medical care.
Please note that due to our role, the time we allow inpatients to spend outside the hospital is restricted to two days and one night as a rule.
Packages and Mail
Receiving Mail at the Hospital
Posting Packages to the Hospital
・Shipping costs must be prepaid.
・The designated delivery date must be after the date of admittance to the hospital.
・The delivery slip must list the following details:
  1. The name of this hospital and its address
  2. Inpatient's name
  3. Ward in which the patient is hospitalized
  4. Patient registration number
Please note that if the recipient's hospitalization cannot be confirmed at the time of its arrival, the package will be returned to the sender.
Address
1-98 Dengakugakubo, Kutsukake-cho, Toyoake, Aichi 470-1192
Receiving Times
Weekdays
8:45 a.m.–5:00 p.m.
Saturdays
8:45 a.m.–12:30 p.m.
* Packages cannot be received on Sundays and public holidays.
Mailing Items from the Hospital
* To send items through the post, please use the postal station on the 2nd floor, or the postbox near the main entrance.
Posting Packages from the Hospital
Please carry your package yourself.
Packages can be posted as Yu-Pack from the postal station.
From FamilyMart, packages can be mailed out only via Takkyubin.
Hospital Radio Program "Fuji Time ♪"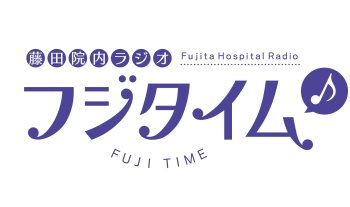 "Fuji Time," offered by Fujita Hospital, is an internet radio service that inpatients can listen to 24 hours a day. The radio features Fujita Academy staff members, including doctors and nurses as well as volunteers. We provide a soothing experience to patients through various programs featuring the latest medical information, interviews, readings, and musical performances. Please give it a try.
Other Information
Consultations at Other Medical Institutions During Your Hospital Stay
As a rule, you cannot undergo regular medical examinations or be issued prescriptions for medicines at other medical institutions while you are staying at our hospital.
Please consult your doctor or ward nurse.
Using Prepaid Cards
TVs, refrigerators and washer / dryers inside the hospital can be used with a prepaid card. (with the exception of some hospital rooms)
Prepaid cards that are left over or unused will be refunded at the automated balance adjustment machine.
Locations of Prepaid (TV) Card Vending / Balance Adjustment Machines
Card Vending Machines
1,000 yen per card
Vending machine corner, Hospital Building A B1
1st floor lounge, Hospital Building A
Ward lounge, 5th–11th floors, Hospital Building A
Vending machine corner, 1st and 2nd floors, Hospital Building B
Ward lounge, 3rd–8th floors, Hospital Building B
In front of the elevator, 1st, 2nd, 4th and 7th floors, Hospital Building C
Card Balance
Adjustment Machine
Vending machine corner, Hospital Building A B1
1st floor lounge, Hospital Building A
Vending machine corner, 1st floor, Hospital Building B
In front of the elevator, 1st floor, Hospital Building C
* A processing fee of 50 yen will be deducted when adjusting balances.
Various Charges

TV
60 yen per hour
Refrigerator
100 yen per 24 hours
Washing machine
100 yen per 1 cycle
Dryer
100 yen per 30 minutes
* Washing machines and dryers can also be used with cash.
Medication
If you are currently taking any medication (including over-the-counter drugs), please notify your doctor, pharmacist, or nurse. Also, if you have experienced any allergic reactions to any medicines, please let us know as soon as possible. The pharmacist will manage your medication and provide explanations.